Sometimes people enter your life at just the precise moment you need them most. At Olivia's House we call this often overlooked miracle, "KAIROS", loosely translated as "In God's Perfect Timing". We have had countless individuals inspire this mission, the York community and … OUR world! They have taught us lessons, shaped our character, challenged our perceptions, helped us to believe and INSPIRED us to be better. Those walking angels are forever immortalized at Olivia's House and receive the distinct honor of joining the ranks of the INSPIRANGELS.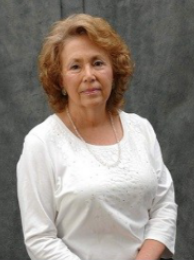 Vicki Friedman
After a long career in not-for-profit development, Vicki Friedman came out of retirement to join the staff of Olivia's House in 2005. Understanding the profound importance of this mission, Vicki took a "long-term" perspective and in essence helped to shape the future as our first Development Director.
Always giving of her time, talent and treasures, Vicki's work at Olivia's House did not stop when she retired (for the second time). She served as an Olivia's House Ambassador, the Olivian Gala Committee Chair, and the President of the Board of Directors.
After the tumultuous journey of caregiving for her father, sister and her husband, Gary, Vicki authored her first book, The Caregiver in You. It is a regular offering in the Lending Library at Olivia's House. The expressive text and exquisite illustrations calm the weathered soul, offering messages of hope and comfort. Drawing from her many years of service, her book reminds us to broaden our concept of love to include ourselves as well as those for whom we give care… and to do so without fear. The ultimate caregiver, Vicki established the Gary Friedman Memorial Fund in 2013, with the specific purpose to promote the personal growth of the staff of Olivia's House.
A respected artist, Vicki's works include themes of angels. Hence the creation of her Inspirangel series. One piece in the series, HOPE, was a collaboration with Olivia's House and our dear friend and graffiti artist, Ramon Trevino. Vicki reminds us, "We walk with angels when we devote our energies and hearts to the well-being of others." With this philosophy in mind, we are proud to celebrate Vicki Friedman's rich legacy at Olivia's House by naming her as the inaugural inductee into the InspirANGELS of Olivia's House, so named and designed embracing both her artwork and passion.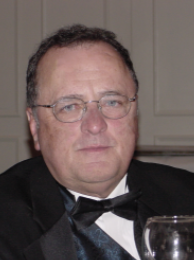 George Foley
In 1996, Leslie Delp, Olivia's House Founder, traveled to Seattle to attend a conference of grief professionals, with the hope of learning how to create a grief center. In a conversation with the conference bookstore owners, Leslie learned that they had a friend in York(!) who could help her. That friend was George Foley, and help he did!
As the President and CEO of The York Casket Company, George understood that children mourned. He worked diligently to ensure that children were not ignored with regards to the many rituals happening around them following death, by welcoming them into the funeral experience and answering their questions. Accordingly, when Leslie connected with him, he offered enthusiastic support of her wish to create a grief center.
During their first meeting, George asked, "How can I help?" Leslie said, "I need a house." George responded, "I can get you a house." He went right to work, eventually co-signing our first mortgage! Spearheading the renovations alongside Leslie for one solid year, George left his fingerprint on practically every feature at 830 South George Street. The carriage house in the garden, the quilt hanging in the welcoming room, and so many other physical elements of the property took shape in accordance with George's fine insights.
George was on the original planning committee and eventually became the Vice President of our Founding Board of Directors. He was Leslie's proverbial "foot in the door," procuring introductions for her to meet people who would be instrumental in advancing the physical building and the mission of Olivia's House. George and Leslie were so like-minded in their quest to build Olivia's House that she dubbed him "the Sonny to her Cher."
For all of his efforts to support grieving children, our community and Olivia's House, we are proud to celebrate George Foley's rich legacy by inducting him as one of the InspirANGELS of Olivia's House.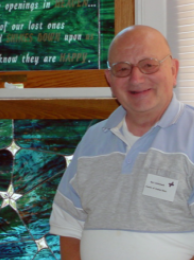 Bert Ochterbeck
"Would you like a chance to support Olivia's House?"
When Bert Ochterbeck met Leslie, our Founder, in 2001, he came bearing gifts! He had lost his stepson and wanted to learn more about our mission, but more importantly, he wanted to donate one of his original butterfly stained glass art pieces. After that meeting, Bert's wheels started turning. He set out to create stained glass art to be included in the design of each of our children's program spaces.
That wasn't enough! Bert continued to support the mission of Olivia's House with his legendary stained glass raffles. Each year he would create an original stained glass art piece, and would dedicate his weekends to selling "chances" all over the county. He loved sitting at the entrances of Browns Farm Markets and the Markets at Shrewsbury. He would talk to every single person who entered, and then he would talk to them again when they exited! Over the span of a decade, Bert single-handedly raised over $50,000 to benefit the children's social programs and holiday shopping.
When the Amish community in Lancaster County lost eleven children in a mass shooting in 2006, Bert crafted stained glass angels for the parents, who laid the angels in the children's caskets. He was embraced by Amish families and welcomed into their homes, an unusual occurrence in the close-knit Amish community. In 2008, Bert was honored with the Red Cross Community Hero Award for his selfless work with Olivia's House and grieving families. Bert was an exceptional man, and we were blessed to have his loving hands at work for our mission, both literally and figuratively.
Bert passed away unexpectedly in 2018, and his death left a large void in our mission. We miss our "little chats" when he would pop in for a visit, and we miss his fervent dedication to our work. While he is no longer physically with us, his spirit lives on at Olivia's House, his art work prominently displayed for all to enjoy. For all of his efforts to support grieving children, our community and Olivia's House, we are proud to celebrate Bert Ochterbeck's rich legacy by posthumously inducting him as one of the InspirANGELS of Olivia's House.